How Christopher Brown is Changing the Narrative for Athletics at MSE@Brentwood
Story by cnmAdmin2030 / October 17, 2019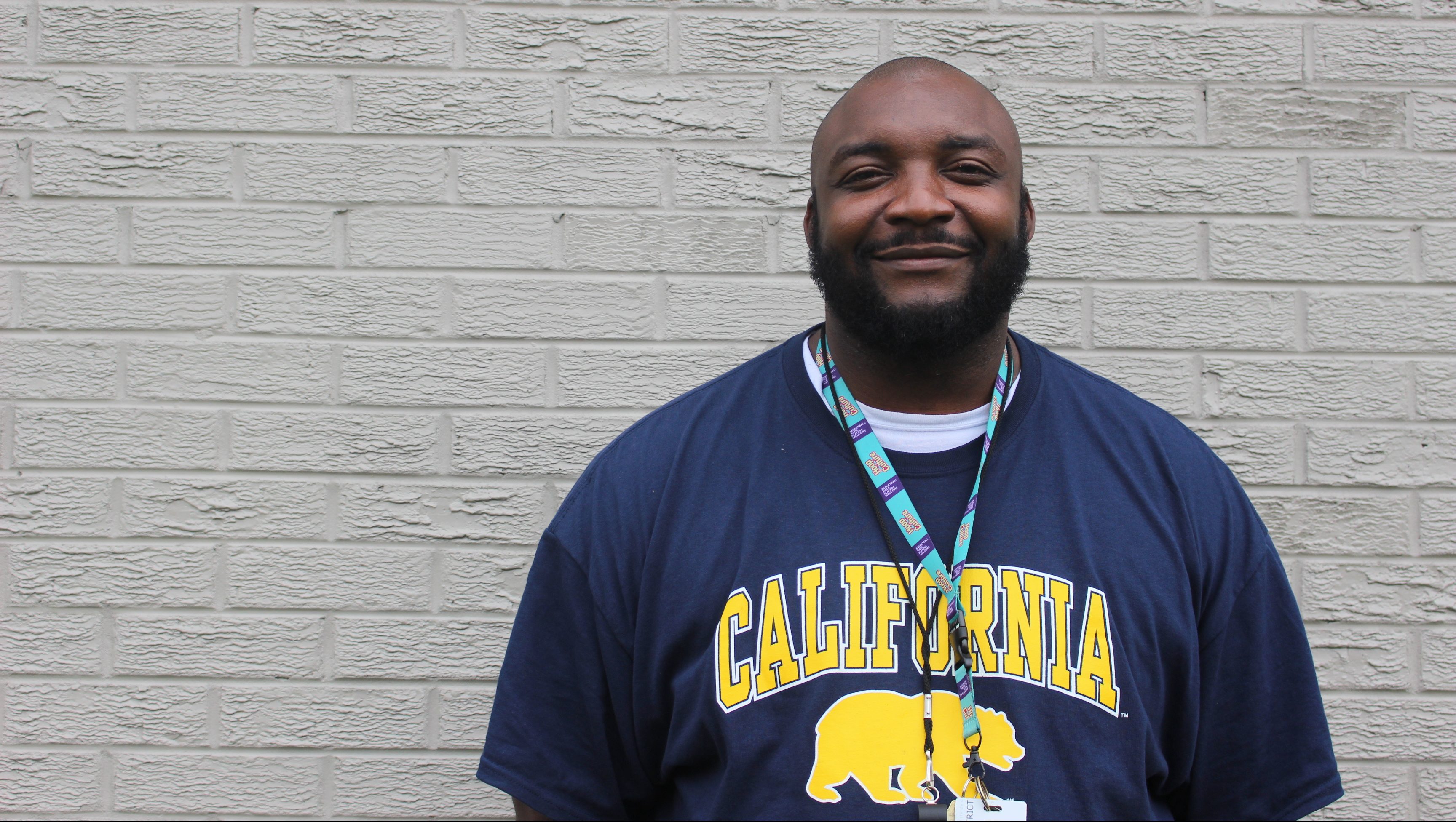 Brentwood students rush into the gym. Some grab basketballs for some solo free throw time while others take their places on the court. They have a ritual. This group of students take turns shooting before throwing the basketball to Director of Athletics and Coach, Christopher Brown. "They expect me to shoot with one hand," he explains, as students jump and attempt to guard him from making the perfect shot. When he misses, students yell. When he makes it, students yell even louder. It is easy to see that students enjoy their time with Brown who is new to the Meeting Street Elementary @ Brentwood team this year. Coming with more than 20 years of coaching experience, Brown is already working hard to implement a strong athletics program for MSE@Brentwood, including a brand-new swimming program for students. It is just one of the many new programs students have to look forward to and we are grateful for Brown to be leading the initiative.
To learn more about Brown and how he is changing the narrative, check out the interview below!
Are you a Charleston native? If not, where's home?
I am from a little town called Sumter, South Carolina. I moved here at the end of 2013.
You're not only the Director of Athletics at MSE@Brentwood, but the Varsity Basketball Coach at North Charleston High School. How did sports impact your life and what made you ultimately want to go into coaching?
I moved a lot at an early age and sports guided me. I knew early on that I wanted to give back in some form and coaching gave me that platform.
This is your first year at Meeting Street Elementary @ Brentwood, how did you hear about Meeting Street Schools?
I heard about Meeting Street Schools from my previous coworkers. Several had friends who work at Brentwood and they spoke highly of the place, so I did some research and was impressed. I turned down several jobs for this opportunity.
How long have you been working in the education/coaching field?
I have been coaching for over 20 years, including college basketball. This is my 5th year in education.
How do you feel being a male in the coaching/education profession impacts young people, particularly young men?
I notice a lot of the young men look up to me and that gives me a sense of purpose. My players always want to talk about life. I am like a father figure. I am someone they can count on and trust. They know I'm going to have their back.
Why do you think it is important for schools to have a strong sports program?
In the world we live in, you need to. Statistics show that parents will take their children to schools that do. A strong athletic program makes a school the "IT" school. You can see it around here in Charleston, not only do some schools have strong academics, they also have strong sports programs. We see a lot of schools losing enrollment when there is not a strong program present.
I also think it's important because it gives a lot of kids an outlet. I teach basketball class here at Brentwood and many were not into it at first. Now they can't wait to be here and they are coming out of their shell. The kids high five me when they see me.
What is your coaching philosophy?
I live by a model called trust the process. I had a kid who graduated and he went on and signed a basketball scholarship. During the summer, he was worried he would not get a scholarship. I told him, as long as you put in the hard work with teachers and sports, then you'll have something. You'll have a strong work ethic, even if you don't get the scholarship. He ended up graduating with a 3.6 GPA and a college basketball scholarship. I think it makes players a better citizen in life if they trust the process. He actually texted me yesterday to tell me he is on the college basketball poster.
What is one thing you hope your athletes take away from you and carry throughout life?
Just to be a good person. Go off to college and play college sports and then come back and provide to your community. I hope they share the knowledge they've obtained and give it back to the youth.
What other sports programs are in development at Meeting Street Elementary @ Brentwood?
We are looking forward to having a swimming program, track and field, and possibly golf. We've already had 60 kids sign up for swimming. We are just waiting on the new pool to be finished in North Charleston. Our fall sports are doing really well. Our 5th grade football team is tied for 1st place, soccer team is tied for 1st place and 6th grade football is in 2nd place.