The Citadel Athletic Academic Advising Team Adopts A Classroom at Meeting Street Academy
Story by cnmAdmin2030 / October 10, 2019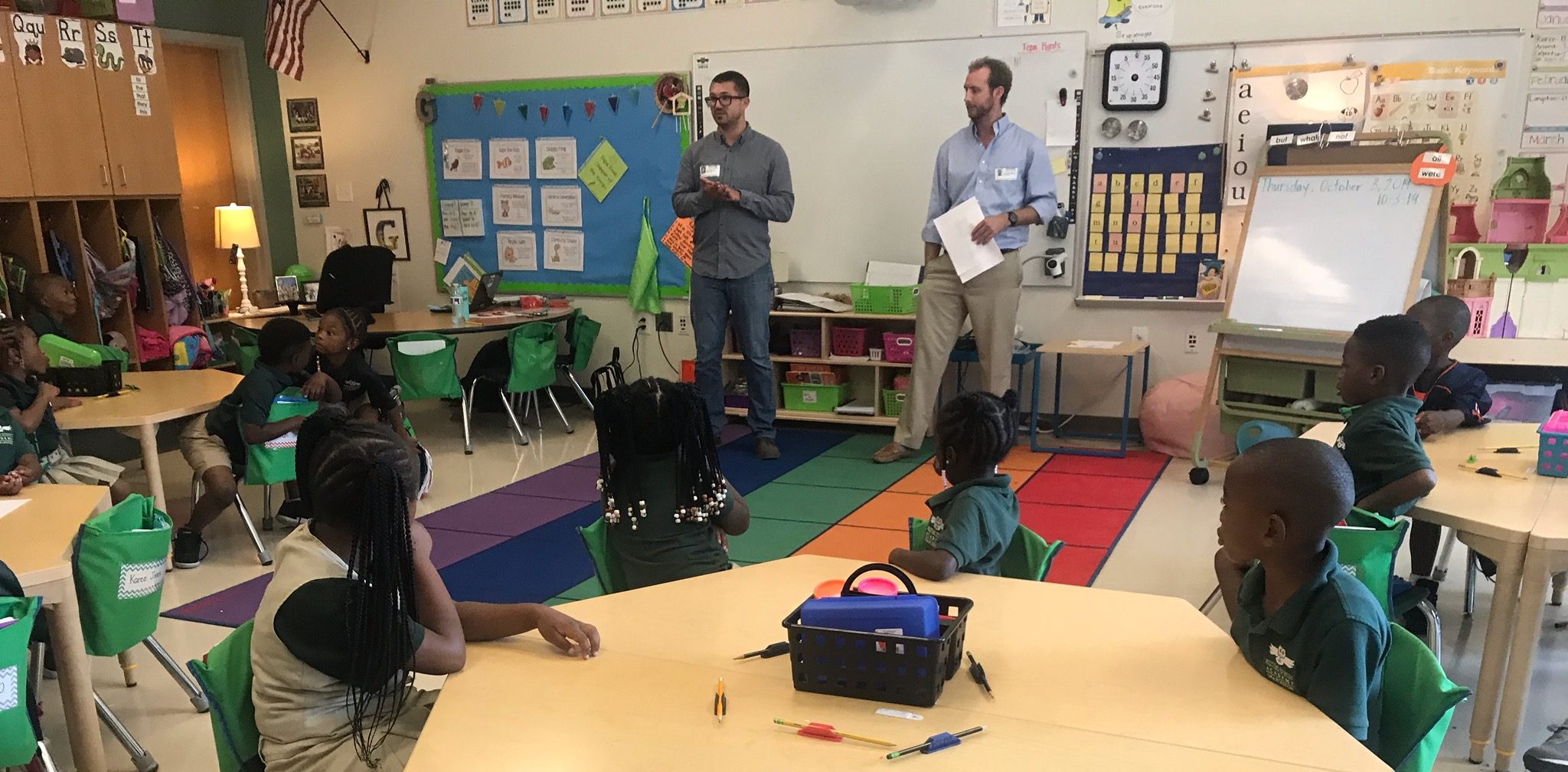 The Adopt-A-Classroom program at Meeting Street Academy-Charleston invites community members to become apart of one of their classrooms. Through the program, volunteers make a year-long commitment to support our incredible teachers by visiting and helping in the classroom or leading an activity of their choice each month.
New to the program this year is The Citadel Athletic Academic Advising Team. Last Thursday, October 3, they made their second visit to Danielle Gibson and Marshall Carter's kindergarten class. Although it was only their second visit, they were greeted with excitement and hugs from students who remembered "Mr. Drew" and "Mr. Joe."
During the visit, students learned about football and the importance of sports safety. Citadel team members Drew Bryan and Joe Ellison gave students a brief overview on the history of football helmets, particularly emphasizing how the different parts of a helmet work to protect the head and brain from injury. Bryan and Ellison also brought a mini helmet to pass around and share with students. "They were excited to see what a football helmet looks like and yell, 'touchdown!' while putting their hands up in the air. I really enjoyed it," Bryan shared.
Bryan and Ellison also told students about the upcoming rivalry game, The Military Classic of the South, between The Citadel and Virginia Military Institute. They shared a picture of the Silver Shako trophy with students who sat with their hands eager in the air to ask questions. Many wanted to know why the trophy was in the shape of a hat and had a "potato on top," which Bryan explained is a plume. Other students wanted to share their own experiences playing football. Bryan and Ellison took as many questions as they could before their departure, which was full of hugs and thank yous.
Ellison said, "I consider myself a beneficiary of this program just as much as the kids — the joy I get from spending time with them makes the program more than worthwhile"
We are grateful for partners like The Citadel who are dedicated to giving back to their community and schools. Go Bulldogs!