Xaviera Thurman and Her Role as a MSE@Brentwood Teacher
Story by cnmAdmin2030 / March 18, 2020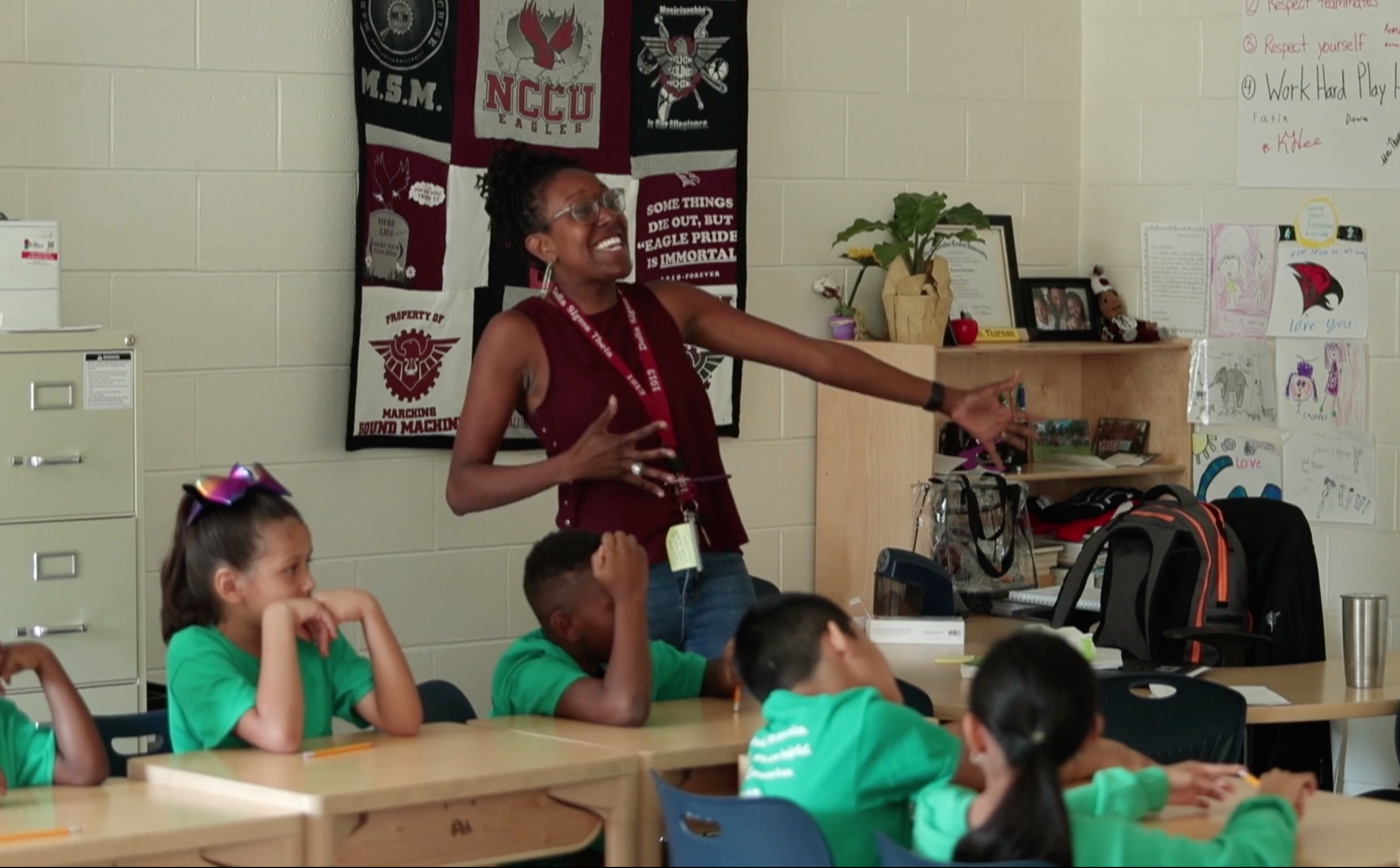 "I hope my students know they can truly do whatever they put their mind to. I truly believe in them and I hope they can surpass my faith in them and let the world know how brilliant and bright they are."
Born and raised in Charlotte, North Carolina, Xaviera Thurman attended North Carolina Central where she initially majored in Hospitality and Tourism. Luckily for Meeting Street Schools, Xaviera soon realized her true calling as a teacher after serving as a leader in her sorority. "It was the satisfaction of helping others," she explained. Now, Xaviera is completing her 3rd year at Meeting Street Elementary @ Brentwood where she currently teaches 4th grade.
You can read more about Xaviera and her role as a teacher at MSS in the interview below!
How does MSS prepare you for success differently than other schools you've previously worked with?
Being in a classroom with another teacher definitely helped prepare me. It was like student teaching all over again. I had the best teacher, Sarah Torres. She led by example and I learned so much from her. I still implement things I learned from her while I am teaching.
As a teacher, how is your role different from the teaching fellow role?
It's different depending on who the teacher is and the nature of the relationship with your fellow. My current fellow is confident, driven, and wants to learn. No one can tell who the lead is in the classroom. I feel there is no difference. We recognize where our strengths are and go from there.
What skills are required in your position on a day-to-day basis?
Being organized. Not just in school, but in life. You have to have a balance and make sure your cup isn't empty. You have to take care of yourself. You would think it would be easier having two teachers, but it can be hard to make sure we are communicating everything. You don't want to get too far behind.
Being able to build relationships and talk to anyone is also very important in this role. You'll be communicating with parents, family members, etc. You also have to make sure you're building strong relationships with your students.
Tell me about the parts of your role that you find most challenging.
Organizing your time and efforts, as well as staying on top of things. It's still a work in progress for me. There are certain goals we have for our students to meet and as teachers, we have to figure out what "holes" we need to fill. It can get frustrating because we want to see our students meet the goals. We just have to keep trying until we figure it out.
Tell me about the parts of your role that you find most enjoyable.
The camaraderie of my coworkers. We have the same ideals, goals, and have created strong friendships with one another. One of my coworkers was in the room when I was delivering my baby. The parents of my students are great too. I've had parents babysit my kids. It's truly like a family.
As an educator, what would you tell people who are unsure if they want to pursue a career as a teacher?
I'm not sure. For me, this is the job. You don't really know until you try. I never would have imagined that I would be where I am now, but you have to find what works for you, makes you happy, and gives you peace. It's not for everyone, but you have to learn as you go if it's for you or not.
What educational or professional preparation would you recommend for someone who wants to advance in the profession?
Racial Equity Institute. It's amazing and opened my eyes. Even as an African American, I didn't know things that went on in homes of poverty. The training helped me be empathetic and find ways to relate to all my students.
What is something you hope to teach each and every student that walks into your classroom?
They can truly do whatever they put their mind to. I truly believe in them and I hope they can surpass my faith in them and let the world know how brilliant and bright they are. I want them to know they are good enough. They can be whoever they want, as long as they put their mind to it. I hope I can impact them in that way.
How can candidates best prepare for Interview Day? What's your main piece of advice?
Try to find ways to have fun. I didn't make it through my 20-minute lesson. You can't stress over that. Just be flexible and know you won't get through your lessons in everyday life.
What is the most impactful thing a student has ever said to you?
It was 2 years ago and we were getting ready for a performance. I had a student, Zaelyn, who said to "pretend everyone in your audience is a pineapple." It's silly but sticks with me to this day.