2nd Cohort of First Year Teachers Celebrate Completion of MSS New Teacher Academy
Story by Jen Jordan / May 18, 2023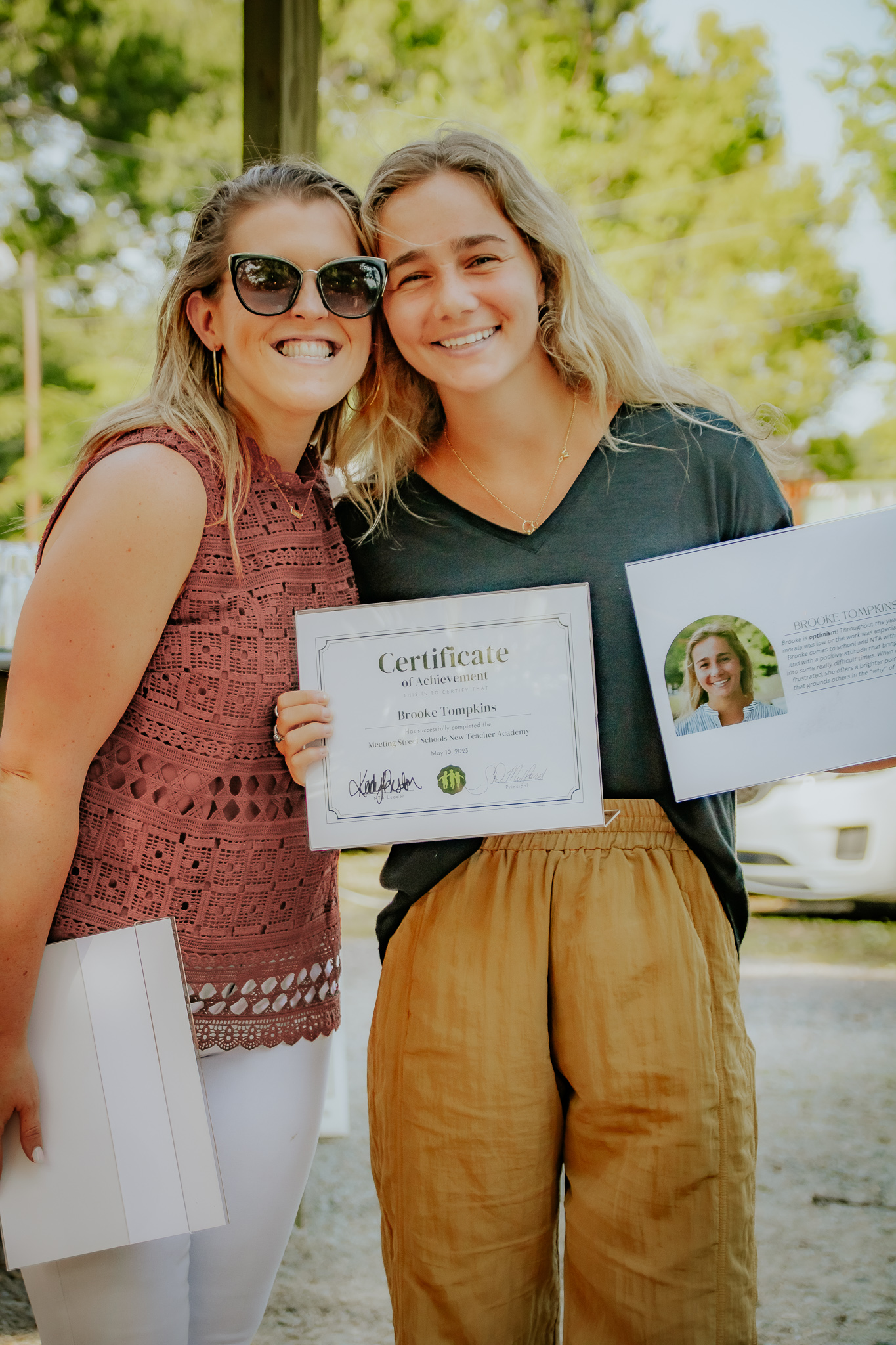 By Kady Preston and Brooke Tompkins
Why did Meeting Street Schools Create New Teacher Academy?
In Malcolm Gladwell's 2011 book Outliers: The Story of Success he makes the claim that it takes 10,000 hours of intensive practice to achieve mastery of complex skills such as playing the violin or getting as good as Bill Gates at computer programming.
Let's pretend that teachers only work 8 hours a day for 180 days of the year. According to Malcolm, a teacher would need to be practicing their skill for about 7 years in order to achieve mastery in the field. But we don't have seven years. Teachers have a direct impact on the trajectory of each life that enters their classroom each and every day, whether they are in their first year of teaching or their seventh.
So how do we accelerate this timeline?
How do we get new teachers to reach mastery over the complex skills needed to move students' academic growth THIS year?
That is where New Teacher Academy comes in.
What is New Teacher Academy?
New Teacher Academy (NTA) is a practice field for teachers to refine and execute the skills and teacher moves every master teacher needs. While each campus in the Meeting Street Schools network offers consistent feedback to teachers every day, New Teacher Academy provides a place for new teachers to practice their teacher moves in front of other first year teachers before bringing it to children. 
 The program, led by a master teacher, supports first-year teachers in not only honing their teacher skills, but also provides new teachers with fellowship and community. NTA consists of teachers who are in their first year of teaching. This means that every educator is coming from the same starting point. Sessions are thoughtfully designed to ensure that content is relevant and high-leverage, and teachers spend the bulk of time doing the practice and getting feedback.  Sessions include topics such as how to partner with families, the art of reteaching, and how to create a culture of error. 
How did New Teacher Academy impact you as a first year teacher?
"New Teacher Academy gave me the opportunity to connect and relate to other first year teachers, get insight into the highs and lows of a typical day of teaching, learn applicable classroom management skills and gain confidence in my ability to lead my classroom," stated Brooke Tompkins, NTA Class of 2023. "My NTA lead, Kady Preston, was a perfect example of the teacher we should strive to be and how to live and represent the mission and goals of Meeting Street Schools every single day."
On May 10, 2023, the second cohort celebrated the completion of New Teacher Academy with their mentors, principals, and other Meeting Street Schools leaders. They were each recognized with a "Path to Success" shout out from their NTA lead and received certificates of completion.