Danielle Washington and the Journey Home to North Charleston: Teaching & Leading at MSS
Story by cnmAdmin2030 / December 1, 2020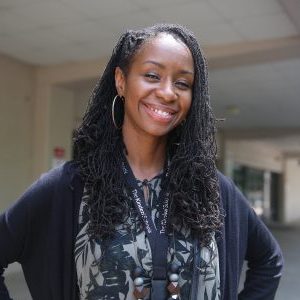 Over the last 11 years Meeting Street Schools (MSS) has been proud to serve families in the downtown Charleston, North Charleston and Spartanburg communities by providing an excellent school option for students in early childhood and elementary grades. Last year the school network was given the green light by the Charleston County School Board to officially serve middle school students through grade eight at its Brentwood campus. The MSS school community is excited about expanding its impact with the first class of 7th graders this year and the addition of 8th grade in the 2021-22 academic year. This bold expansion into middle grades ushers in new learning, new students and families, new traditions and new leaders. At the helm of Brentwood's expansion into middle grades is North Charleston native Danielle Washington.
If you ask around from Charleston to Bishopville to Atlanta, people will tell you that Danielle Washington is all of the great things that special school leaders are made of. School leaders at MSS describe her as disciplined, insightful and principled. If you ask Danielle Washington who she is, she will tell you, "I am first and foremost a humble servant of Jesus Christ, seeking everyday to use the gifts and talents He has given me to serve others, including all the students, staff, and families here at Meeting Street Brentwood! It is truly a privilege."
The MSS school community is beyond thrilled to welcome Ms. Washington to its team and family as the Middle School Assistant Principal at Brentwood. Her joy, passion and  dedication to the very important work of educating students, supporting families and developing classroom teachers has already made a tremendous impact.
Continue reading below to learn more about Ms. Washington, her journey home to Charleston and why she chose to make a difference at Meeting Street Schools.
You are originally from North Charleston, SC, what was your educational experience in SC like?
My educational experience in CCSD was quite interesting, to say the least. I started as a student at Chicora Elementary, and while I loved that school very much, my mother understood that I wasn't being challenged academically, mostly because of the rotating door of young, inexperienced teachers (in my second grade year alone, I had 2 or 3 teachers). Looking back on that experience as a current administrator, I understand how challenging it is to keep talented, experienced teachers in high needs schools. My grandmother was the cafeteria manager at North Charleston Elementary, so I ended up transferring there in my third grade year and completing elementary school there. When it was time for middle school, my mother ended up using someone else's address (which required her to jump through all kinds of hoops) so that I could attend C.E. Williams Middle School. That school was a much higher performing school than my zoned middle school (which at the time was Norman C. Toole Middle), and as a result, I was able to attend and graduate from Academic Magnet High School, which pretty much guaranteed my path to college. Middle school is a critical time in every student's educational journey, and I believe that that one decision by my mother to move me across the county to a different school changed the entire trajectory of my life. Most of my friends, cousins, and siblings who continued on in our neighborhood schools (Norman C. Toole, North Charleston High) unfortunately did not have the same opportunities that I did. My story is not unique, and sadly happens all too often. All students should have access to high quality schools in the neighborhoods where they live, and this is a big part of the why behind what I do.
How and why did you initially begin your career in Education?
Education is actually my second career. I started out in advertising as an account executive at The State Newspaper, and then with Palmetto Parent Magazine. While I enjoyed what I did, as I grew in my relationship with Christ I came to understand that it wasn't ultimately what I was called to do. I enrolled in the PACE program in 2008 (a program for career changers into education), and began my teaching career in Lee County Schools in Bishopville, SC. While I had experienced the disparities that exist between schools in low-income communities versus schools in middle and upper class communities from my own experiences in CCSD, I had no idea how vast the disparities were for rural schools until I began teaching in Lee County Schools. While my neighborhood school in CCSD struggled to keep high quality teachers, the school I taught at in Bishopville struggled with crumbling buildings, outdated curricular materials, and a severe shortage of any teachers, not just high quality ones. It was truly an eye-opening experience.
Tell us about your journey from the classroom to school leadership?
I taught ELA in 5th, 6th, 7th, & 8th grades for a total of 7 years before moving into school leadership with The Kindezi Schools in Atlanta. During my last year in the classroom, I began mentoring a new teacher in the building and discovered how much I enjoyed coaching. When our network prepared to launch its second campus, it felt like the perfect time to make the transition to a coaching role. I served as an assistant principal at the Kindezi Old Fourth Ward campus for one year before being asked by our Executive Director to serve as the Founding Principal of our network's first turnaround campus, in partnership with Atlanta Public Schools. I served in that role for four years, and am extremely proud of the results we achieved in such a short time. It was grueling work, but I am grateful for the impact we were able to make in the
community we served.
What has brought you back to Charleston to teach and lead?
I saw the success we were able to achieve doing turnaround work in Atlanta, and felt the time was right to bring all the experience I gained to serve students in North Charleston, many of whom are experiencing the same challenges I faced as a student in CCSD.
You could have chosen any district in the Tri-County area. What drew you to Meeting Street Schools?
MSS' focus on serving scholars holistically was very much aligned to my own personal beliefs as a teacher and leader. I had been following MSS' work from afar for a while, and knew all about the impact they were making for students from my community. I wanted to be a part of that work!
What have you learned in your first 90 days as a leader at MSS?
Striking the balance between serving students virtually and in person has been a bit of a challenge. I have learned just how committed the leadership team, teachers, and staff at MSS are to doing whatever it takes to make sure all students are receiving the highest quality education possible, whether that be virtually or in person.
What has been your favorite Charleston memory since you've been back home? What has been your favorite MSS/Meeting Street @Brentwood memory thus far?
I've absolutely loved being so close to the beach! Also, getting to celebrate my birthday with my family was very special as well. My favorite Meeting Street @Brentwood memory hands down was finally meeting one of our 7th graders in person (Thomas), whose mother has the exact same first and last name as I do. He literally called me "Mom" all day! LOL.
What impact do you hope to have at Meeting Street @Brentwood in your first year?
I hope to get our middle school to the place where we are truly living out the mission of Meeting Street @Brentwood in all that we do each and every day, from academics and instruction to student culture and social emotional learning, to staff culture and adult relationships. I want it to be more than just a poster we put up on the walls, or something that we talk about during the first few days and never visit again. I want us to live it and breathe it day in and day out, so that it becomes the why behind all that we do.
How do you plan to measure success for yourself, staff and students/families in the middle school at Meeting Street @Brentwood this year?
I plan on measuring our success this year based on the various goals we have set specifically for middle school this year. These include goals tied to meeting our growth & achievement goals on MAP, goals tied to our reading and math fluency, and goals tied to our student culture & SEL development.
Are you a certified or soon-to-be certified middle grades teacher interested in joining our team and working with a leader like Danielle? Our lead teacher and teaching fellow applications are now open, and we'd love to meet you! Email recruiting@meetingstreetschools.org to get connected with a member of our talent team today!