Meeting Street Academy Class of 2021 earns $1.5 Million in middle and high school scholarships, acceptance to top schools.
Story by Courtney Williams / July 14, 2021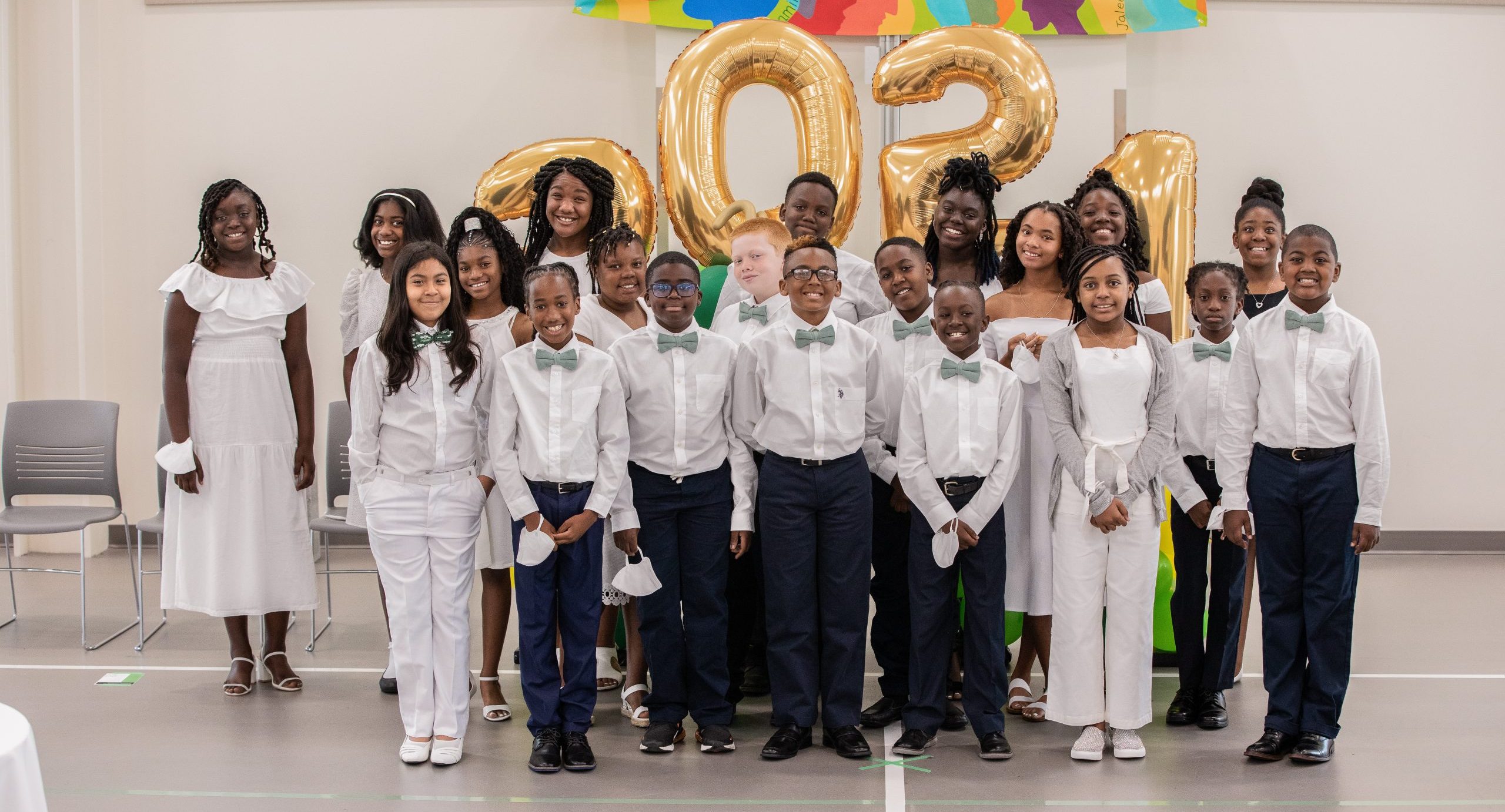 Part of Meeting Street Schools 20-year commitment to students and families from early childhood education to the Meeting Street Scholarship Fund
Charleston, SC – The twenty fifth grade students in Meeting Street Academy's graduating class of 2021 have collectively earned over $1.5 million in scholarships to attend some of Charleston's finest middle and high schools including Ashley Hall, Buist Academy, Charleston Catholic, Charleston Charter School for Math & Science, Charleston County School of the Arts, The Cooper School, First Baptist, Green Charter School of the Lowcountry, Mason Preparatory, and Porter-Gaud.  During the pandemic year, this group of students achieved an outstanding 1.5x years of growth in math and nearly 2.0x years of growth in reading, outperforming 98% of all fifth graders in the nation. Not only did this class exceed academically, but they also worked diligently and passionately to prepare for audition processes, complete personal essays and participate in virtual interviews in order to gain admission to their chosen schools.
Meeting Street Academy was founded in 2008 as an independent, predominantly full-scholarship school, attracting students and their families from across Charleston County who otherwise may not have had the opportunity to access an excellent education.
The early success of the independent academy paved the way for the eventual opening of three neighborhood Public Schools of Innovation located in North Charleston and Spartanburg.  These three Meeting Street Elementary Schools serve students living in their enrollment zones, just as most traditional public schools do.  Public Schools of Innovation generate public funding for students served, supplemented by annual contributions from a private foundation that cover the incremental costs of the early childhood program, various medical and wraparound services essential to their communities, and an extended school day and longer school year.
Today, Meeting Street Schools serves approximately 2000 students and employs nearly 200 educators across the four campuses. The schools make a twenty-year commitment to each student and family, beginning with early childhood education at the age of three and including access to the recently announced Meeting Street Scholarship Fund, which provides all under-resourced SC-LIFE Scholarship-eligible students in Charleston County up to $40,000 towards the cost of college attendance. In its first year, the Meeting Street Scholarship Fund will provide funding to almost 100 Charleston County college-bound seniors.
Funding for the various Meeting Street Schools and scholarship initiatives is provided by philanthropists Ben and Kelly Navarro, with the George Dean Johnson family foundation supporting the Spartanburg Public School of Innovation, with other generous donors backing both general and specific programming.
"When we started Meeting Street Academy with our first group of 40 preschoolers in a repurposed church building on Upper King Street, it was a humble beginning. Now our fifth graders are outperforming the majority of the country, our eleventh graders are applying to top colleges, and we have hundreds of applications each year from families of 3-year olds across Charleston," said Founder Ben Navarro. "Setting high expectations for every student and believing in them is something that we try to match with concrete action. We have to stay vigilant and not just wait for someone else to do something. We are proud of the Academy: it is now a multi-decade effort that has been built brick-by-brick, family-by-family, teacher-by-teacher, minute-by-minute. This is how we close the opportunity gap for under-resourced kids."
"MSA has been such a blessing. From our very first visit eight years ago, it has been such an enjoyable, fun, and exhilarating experience," said parent Sahkena Brown. "The staff makes you feel like family and from day one they have created belonging for each and every student every step of the way. Now my daughter Tiraji is moving into the next chapter of her beautiful life with the continued support of Meeting Street, including her being accepted to the School of the Arts. Lucky for me I have two more little ones so we get to continue to be a part of the Meeting Street Family for many more years."
"MSA has given our son an academic edge in his education," said parent Krista Bruce. "His love for learning was encouraged inside MSA. Every teacher pushed him to always have a goal and to strive for it. We will be forever grateful to MSA for creating a curious spark in our son and he will continue to share that joy and excitement into his middle school years."
Meeting Street Academy has worked over the years with many of the top schools in the region to provide greater access to excellence in education for all students. The Meeting Street Schools Alumni team works to cultivate deep partnerships with campuses, and these relationships will continue to deepen as the Charleston-area Meeting Street Schools evolve to a PK3-8th grade model. High school scholarships, internship programming, and the Meeting Street Scholarship Fund will be top priorities.
"This work cannot be done alone or in a single year," said Director of Alumni and Family Partnerships Kathleen King. "It requires effort from a vast collective of community and school partners who truly believe all students can achieve greatness. The commitment we make to our students and families to support them to and through college is a great honor. We cannot wait to see our alumni as future doctors, elected officials, business owners, entrepreneurs, and hopefully Meeting Street teachers."
Principal Shavawn Davis-Milford further explained, "High expectations are at the heart of our culture at Meeting Street Academy. Every decision we make and action we take on behalf of kids is driven by high expectations paired with a commitment to remove barriers to success. We know this is what will build the needed confidence in our Academy Owls to succeed. Our scholars will compete with scholars at top-ranked schools in our city, state, and nation for years to come. We're excited about the success of this graduating class, and all future alumni, as they continue to shine as barrier breakers and history makers."
Meeting Street Schools CEO Christopher Ruszkowski added, "Our efforts must be embraced and supported by the broader community. We can teach students reading, writing, and arithmetic, but engaging with the broader community is a crucial part of their, and our, learning and growth process. We plan to launch a Capstone Project, amongst other new initiatives, in the near future to provide more opportunities for students to broaden their experiences inside the school and community."
If interested in this initiative, or any of the Meeting Street community opportunities, please contact Nikki Dickens at ndickens@meetingstreetschools.org.
Meeting Street Schools makes a twenty-year commitment to its students and families, which includes robust early childhood program beginning with 3-year olds, deep family partnerships, an extended school day and school year, best-in-class curriculum, data-driven decision-making, 20+ days of teacher professional development, and programmatic opportunities for alumni including access to the Meeting Street Scholarship Fund.  For more information about Meeting Street Schools, visit www.meetingstreetschools.org.